Case Study: Celebrating Vaisakhi with Personalised Merchandise
This month we have been working closely with charities to help them to celebrate Vaisakhi – a Sikh New Year festival that also commemorates 1699, the year Sikhism was born as a collective faith.
Midland Langar Seva Service
Midland Langar Seva Service is a charity that helps people in the UK by providing hot food and drink to those who are vulnerable, including those homeless, in schools and those on the poverty line. They operate on a Sikh based ethos – helping and supporting all people regardless of social status.
We helped MLSS by providing logo pin badges – this helps to promote their charity and get the word out there or all the hard work that they continuously undertake.
Langar Aid/Khalsa Aid
During Vaisakhi, we have also helped Langar Aid – a project by Khalsa Aid. Langar Aid helps to serve the homeless and vulnerable by providing vital food and water where it is needed. Langar Aid also provides support and help to those in need, by setting up an environment that is safe and helps to make people feel valued.
We supplied Langar and Khalsa Aid with Promotional merchandise that can help to promote the amazing work that they do for humanity worldwide. This included wristbands, pens and trolley coins – all of which can create awareness and raise much-needed funds to help the charity to continue to do all of the good work.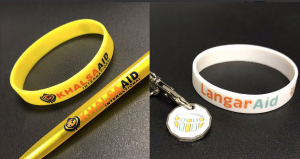 We work with multiple charities to create promotional merchandise, helping them to advertise their charity and raise important funds. Get in touch today to find out how we can help you.